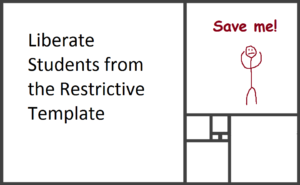 I have to confess, I love it when I'm supplied a template. My editor imposed a template on me for Hacking Engagement. I'd have been lost without it. K-12 education seems a lot like a huge rigid template. In fact, schools are darned similar to standardized mass production facilities. And therein lies the problem. While templates provide direction and form, they're incredibly restrictive.
Brian Sztabnik believes that creativity, student discovery, and self-directed learning can be stifled by over-reliance on templates. He urges teachers to take a courageous step and remove the training wheels.
Brian is an exceptional AP English teacher from Long Island. His website and podcast Talks with Teachers is exceedingly popular. Brian is all about collaboration and his efforts led to the creation of an amazing book…"The Best Lesson Series Literature: 15 Master Teachers Share What Works"
Listen to this episode and work up the gumption to remove the security blanket from students.
Episode Template (I'm well aware of the irony)
The Problem:
Writing templates restrict creativity.
The Solution:
Challenge students with an open-ended writing prompt.
What You Can Do Tomorrow?
Create a sparse prompt.
Include a word count.
Help kids with writer's block.
BE PATIENT
Engagement is stifled by rigidly detailed writing prompts. Find the courage to open the door to epic expression!
Listen to this episode for more detail: