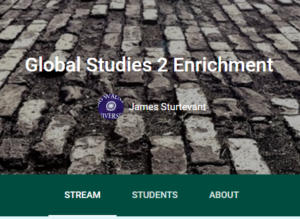 I'll bet you've gazed out at your students and thought:
I wonder if some kids aren't being challenged.
If I personalize instruction…my your room will be unmanageable.
Last spring, I had a student teacher. He was doing well, but one aspect of his instruction…and mine for that matter, that needed work was personalization. While he was busy teaching, I had some downtime and a chance to observe my kids and think. I came up with a method to personalize by combining 2 powerful tech tools…Google Classroom and Edublogs. We employed these 2 tools to offer enrichment to any student who wanted to go deeper in a particular unit.
A separate section was set-up on Google Classroom for Enrichment. Any student who wanted to go deeper in a particular unit could join, review the prompts…or propose something new, and then dive in…or take a pass and see what's available next unit.
The students posted their efforts on Edublogs. This platform encourages various methods of expression. Edublogs is visual, expressive, empowering, and public. The public nature of Edublogs facilitates and encouraged student collaboration. Students can review and then comment on one another's posts.
On today's episode, I have 3 magnificent guests:
Camden Edwards
Emily Kuederle
Coltrane Matos
They'll enlighten listeners about how important it is to offer enrichment and how they endorse my method of doing it. Below are links to examples of their work:
Episode Template
The Problem:
Offering enrichment opportunities is needed, but problematic.
The Solution:
Utilize Google Classroom and Edublogs.
What You Can Do Tomorrow:
Create a new section of Google Classroom just for enrichment
Provide students with a list of choices
Direct students to post their work on Edublogs
Personalization needn't disrupt your class. Utilize Google Classroom and Edublogs for epic enrichment!
Listen to "48-Google Classroom…Plus Edublogs…Equals Epic Enrichment…Starring Camden Edwards, Emily Kuederle, and Coltrane Matos" on Spreaker.