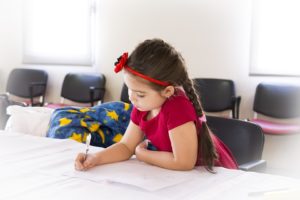 A number of years ago, I took the Myers & Briggs personality assessment. I was tabbed an ENFP. When I read the description of my type, I was thrilled. I thought, Yup that's me and I'm glad it's me. 
My enthusiasm, particularly for the E classification which stands for extrovert, was well-founded. Being an extrovert is the gold standard in America, particularly in our schools. As students, extroverts are the volunteers, the kids who make cheesy videos, the guys who march up to the homecoming queen and ask them out (my wife was a homecoming queen), and the students who inject levity into drab academic settings. As teachers, extroverts are the hams. Even worse, many extroverts seem determined to transform quiet contemplative students into mini versions of themselves. Extroverts say things like, I'm going to pull you out of your shell, or… Put yourself out there. I've done this! I must change!
And here's where my stunning guest, Chrissy Romano from the Garden State, makes her grand entrance.
Chrissy is a veteran teacher with over 25 years experience with students in elementary and middle school. She has spent the bulk of her career teaching in Hackensack where she was born and raised. She graduated from Rutgers University with a double major in Sociology and Psychology and went on to complete the Teacher Certification program and earned a Masters in Counseling from William Paterson University.
She is dedicated to teaching the whole child as well as stimulating and supporting innovation in classrooms. Chrissy continues to be passionate about teaching and infusing technology to engage and motivate students.
Her specialty is G-Suite for Education, effectively integrating technology into the classroom, and PBL/Inquiry-based instruction. She is a Google for Education Certified Trainer and provides professional development and consulting services to educators.
She is a co-host of #CoffeeEdu, an informal monthly gathering of educators,  in Westwood, New Jersey, co-director of NJASCD North, a lead organizer of EdCampNJ and overall EdCamp enthusiast!
As impressive as Chrissy truly is, I invited her on this episode because she's a proud introvert. She's going to help blowhards like me help the 1/3rd of my students that are introverted.
Chrissy also recommended that those interested should watch the TedTalk by Sarah Cline on the Power of Introverts.
The Problem:
Teachers have a hard time accepting students that process the world differently.
The Solution:
Accept all of your students!
What you can do Tomorrow:
Build-in some quiet contemplative time in tomorrow's lesson.
Present with a tech tool that encourages anonymous participation. Great choices include Pear Deck, Padlet, and Today's Meet.
If you're going to employ a more ostentatious tool like Flipgrid, be certain to provide the option for kids to interview someone instead of starring in the video clip.
Make a point of interacting regularly with reserved students about non-school issues.
Please accept all students for exactly who they are. Isn't that what you'd like someone to do for you, or your children?
Listen to "76-Quit Trying to Turn your Introverts into Extroverts…Starring Crissy Romano" on Spreaker.