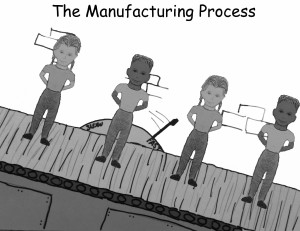 Yes, we differentiate now more than ever! Yes, we work hard to make certain every kid gets it! But let's not kid ourselves…contemporary education is obsessed with the manufacturing process of learning. This obsession includes:
pedagogy
content
data
technology
testing
We've somehow forgotten that education is a people business. When we do this, we get in trouble. How individualized was the last standardized test you proctored?
We're fixated on the process. I started teaching in the late summer of 1985. Over the past few decades, I've endured  A LOT of professional development. I recently made a list of some PD topics…at least the ones I can remember!
differentiation
rubrics
summative assessments
formative assessments
think pair share
block scheduling
all-year calendars
self-directed learning
professional learning communities
creation of teacher websites
BYOT
flipped classrooms
essential questions
and the current rage…PBL (project based learning)
Now, don't get me wrong! I've grown immensely as a result of these experiences. I'm a much better teacher because I've learned how to use these tools, BUT THEY'RE JUST TOOLS!
Technology is a wonderful tool. In my career, I've gone from the chalkboard to the SmartBoard, from the grade book to the laptop.  I love utilizing technology. It's fun! It's challenging! It's contemporary! It adds so many resources, and virtually eliminates distances. But when it comes to technology, are we engaging in idolatry? Are we turning our Chrome Books into graven images? Are we forsaking all others in our fidelity to this tool?
Try searching "education blogs" in Google, or "k-12" in iTunes. The amount of resources advocating and directing the use of technology in the classroom is staggering. But again, please don't get me wrong! This is not a bad thing. I love incorporating technology.
I believe, however, that if teachers have a positive paradigm towards student/teacher relationships, it's potentially more powerful than any of the previously mentioned tools!
John Hattie in his landmark book "Visible Learning" crafted a list of 138 influences on students learning. Student/Teacher relationships secured 11th place, far ahead of things one might think more important. NEVER underestimate the power of healthy vibrant student/teacher relationships! If you do, you'll be missing the central theme of every Hollywood movie on education! Regardless, and unfortunately, I can't remember one example, from my 30-year-teaching-gig, when an administrator stood before my colleagues and me and said, "Okay staff, today we're going to work on forging stronger bonds with students!"
So, why the radio silence? I have a couple of theories. When I promote my ideas on learning how to bond with students to an administrator, or fellow teacher, I'm sometimes treated to a blank expressions followed by the claim, "You can't teach that. One is either born with the ability to connect with students…OR ONE IS NOT!" In other words, your genetics is your destiny…the cake is already baked. This outlook is sad! True, personality is incredibly important, but it certainly isn't destiny! I've grown so much as a teacher. A lot of this growth came in the bonding with students realm. I learned how to do it…often the hard way by making mistakes. Which leads me to my next theory. There is a perception that bonding with students is so abstract and fuzzy that trying to teach another how to do it is pointless. Educators must indeed learn it the hard way…on their own. To do PD on connecting with students is a waste. Well, that's just sad too! There are absolutely things teachers can do right and things they can do wrong. And certainly, our poor students shouldn't be lab rats! Why subject them to avoidable mistakes till their instructors figure it out…if they ever do? We need to help teachers, particularly young ones, grow in this vital task of bonding with their kids.
So, to administrators in my audience…in planning your introduction of THE NEXT BIG THING IN EDUCATION at tomorrow's staff meeting, ask yourself, "Am I including tools and strategies to help my staff bond with our students?" How about tackling this problem like every other issue in education? How about including strategies and tactics for forging strong relationships with students in your PD repertoire? Tomorrow could be one of your most interesting and lively staff meetings. If you do this, and teachers form stronger bonds with kids, THE NEXT BIG THING IN EDUCATION may indeed be significant!
If you'd like to learn more about connecting with students, check out my book "You've Gotta Connect"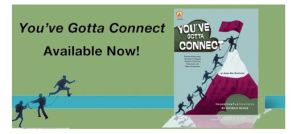 You can also listen to me talk about connecting with students on the following podcasts:
Talks With Teachers with Brian Sztabnik #66 http://bit.ly/1DwrNMu
Inspiring Educators with Sung Lee #34 http://bit.ly/1yaBkpe
Cult of Pedagogy with Jennifer Gonzalez #09 http://bit.ly/1sFSbBl
AJEd Episode with Adam Jones #07 http://bit.ly/1vNXBpZ
The Middle Way Society UK with Barry Daniel #54 http://bit.ly/1AQbmW6
Principal Center Radio with Justin Baeder http://bit.ly/1yXcN89
All Sides on NPR's WOSU 89.7 with Ann Fisher http://bit.ly/1wO2GDX
Middle School Matters #297 http://bit.ly/1uO0dUh
Please visit my website http://jamesalansturtevant.com/ and follow me on Twitter @jamessturtevant