Teaching my Columbus State dual enrollment class has been a real treat.  A primary goal is to create a professional learning community in Room 111.  To aid in this effort, we created class sweatshirts and tee-shirts.  They're patterned after the old skool college seal sweatshirts that were prominent in the 1960s and 70s.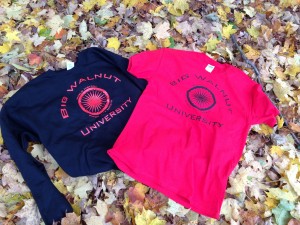 The students sure seemed to like them.  All but one kid put cash on the barrel head.  Not only will these shirts boost morale, but they'll be great advertising for the course.  Think about creating shirts for your class.
Of course I had to get my lovely wife one.  Standing in the autumn leaves, she brings back distant memories of cute co-eds padding around Muskingum's campus.  I guess this means we're going steady.