Trying to determine what another is thinking is one of life's great challenges. You may have spent the majority of a first date wondering just that! Understanding another's preferences can save time, effort, and money. So, when it comes to our student's preferences, let's become detective-like and solve some mysteries with SurveyMonkey!
Here's my ridiculous survey on Sturtevant Outfit Preferences: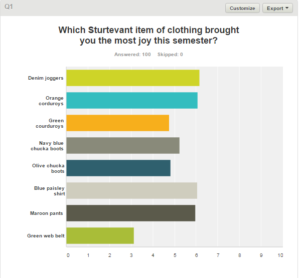 Episode Template
The Problem:
Teachers don't know student preferences.
The Solution:
Utilize SurveyMonkey.
What You Can Do Tomorrow: 
Sign-up for Survey Monkey.
Create a Poll.
Ask a bonding question.
Ask about activities preference.
Insert a hook.
Listen to the episode for more detail!
 Please check out all of the episodes of the Hacking Engagement Podcast on iTunes!