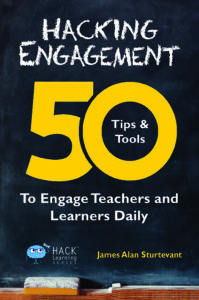 In the late summer of 2016, my book Hacking Engagement will be available. 
Each of the 50 hacks will follow an identical template. Each will begin with a thorough explanation of the problem. Then, a detailed solution will be offered. Finally, concrete steps to manifest the solution the next day will be supplied.  

I want to assure you that I'm one of you. I'm not an administrator. I'm not a consultant. I'm not a professor. I'm a teacher and I'm in the trenches with you brother and sister educators. My mission tomorrow is to figure out how I can engage my students in my public school classroom. It's a mission I've been on for over 3 decades!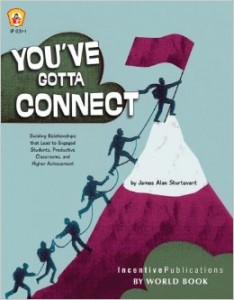 Jim Sturtevant first stepped in front of high school students in the late summer of 1985. Jim predicted he would teach a year or two, before pursuing something grown up: go to law school, get a PhD, or enter the private sector and earn a fortune.  But, a funny thing happened on the way to the forum.  Jim fell in love with his students.  Could one really get paid for bonding with young people?  The answer was…ABSOLUTELY!  And still is, some thirty years and thousands of students later.  "Your students seem so relaxed and happy.  How'd you create this atmosphere?" was the haunting question a visiting Education professor once asked Jim after observing his class.  Caught off guard, he gave a meager and vague response.  After much reflection and research, Jim is now prepared to answer the question.
If you are interested in learning more about my book, please follow this link: 
Click on the picture below to watch the book trailer!