Preparing for my Columbus State World history class has been fun.  I've had to take my knowledge of world religions much deeper.  Fortunately, Central Ohio has a diverse religious community. Today, I visited one of Delaware County's Hindu temples for the Ratha Yatra festival.

The temple population was very welcoming, but shoes, are not welcome.
Most Westerners recognize Ganesha.
This temple has plenty of Southern Indians. They are more partial to the female aspects of the divine. Hence, my favorite alpha female Durga is prominently displayed.
Inside, the Brahman priest chants mantras in Sanskrit. Much like Latin in the old Roman Catholic masses, much of the congregation is uncertain what is being said, but the sounds are holy to devotees.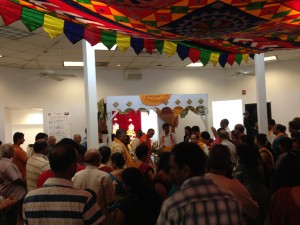 Ratha Yatra continued in the parking lot. Three richly decorated chariots, resembling temple structures, are pulled through the streets of Puri called Badadanda. This commemorates the annual journey of Lord Jagannath, Lord Balabhadra, and their sister Subhadra to their aunt's temple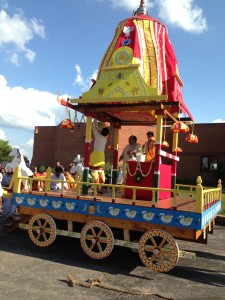 Yes, the whitest member of the congregation's third eye, was smudged with ash.  I now have new friends that will help me grow and teach.