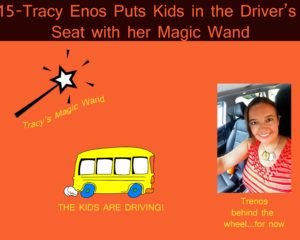 I've always been intimidated by student-directed learning. I hate to admit it, but I'm a bit of a control freak and I worry about classroom anarchy! That's my gut's hesitancy. My head knows that it's a wonderful way for kids to learn and it's highly engaging.
If you, like me, are hesitant about student-led learning…I've got a guest that'll help us get over the hump! Tracy Enos is a middle school teacher from Rhode Island. She's ALL about putting students in the driver's seat! Listen to her impassioned message and then climb in the backseat and fasten your seatbelt.
Here's why Tracy is convinced that student-led learning helps kids:
Creat
Collaborate
Think Critically
Be Active Learners
Develop 21st Century Skills
These wonderful attributes materialize when Tracy waves her magic wand! SORRY…you'll have to listen to solve that mystery!
And finally, check out Tracy's student playlists.
Skills Lab Playlist-Parts of Speech Review Nouns Verbs Adjectives Adverbs
Dystopian Literature Book Club Student Playlist
Intro to Anne Frank Group Playlist to Share
Episode Template
The Problem:
Students often aren't engaged because they're too passive in the classroom.
The Solution:
Create an environment where student-led learning is the norm!
What You Can Do Tomorrow: 
Apply these 4 questions to tomorrow's lesson:
How much time is needed to practice/ master skills?
How can students have a voice concerning where and when learning takes place?

What does each individual student need to accomplish their goals?  

How can they show that they've understood the topic or mastered the skill?  
Listen to the episode for more detail: